April 14, 2020. DFD Capt. Bob Barnes and Assistant Chief Mike Rice report: The available stock of surgical masks is at a critical low, with only 600 left in supply for the department. The City is expecting a shipment on Friday, but there is no guarantee on the delivery or quantity we will receive. At our current usage rate, we will exhaust our current supply of surgical masks within a week.  Even with the expected delivery, current usage could leave us without facemasks within two weeks at the current utilization rate.
Effective immediately, the Dayton Fire Department will be following the CDC's "Crisis Capacity Strategies" level; all surgical masks are to be reused by the same member per the CDC guidelines
CDC Crisis Capacity Strategies
The facemask should be reused unless soiled, damaged, or hard to breathe through.
Masks grossly contaminated with blood, respiratory or nasal secretions, or other bodily fluids from patients should be discarded.
Do not touch the exterior of the facemask.
Surgical masks should be carefully folded so that the outer surface is held inward and against itself to reduce contact with the outer surface during storage. The folded mask can be stored between uses in a clean sealable paper bag or breathable container.
Wash hands thoroughly following safely doffing and storage of the used mask.
---
In addition to the above strategies, DFD is stressing their members remember these guidelines:
CDC guidance recommends that, for COVID-19, only essential personnel enter the patient care area

Limit the number of members exposed to the patient to the minimum necessary to treat the patient.
All others should maintain a safe distance, outside and upwind, if possible.

Follow CDC guidance for appropriate level of respirator protection per the chart below.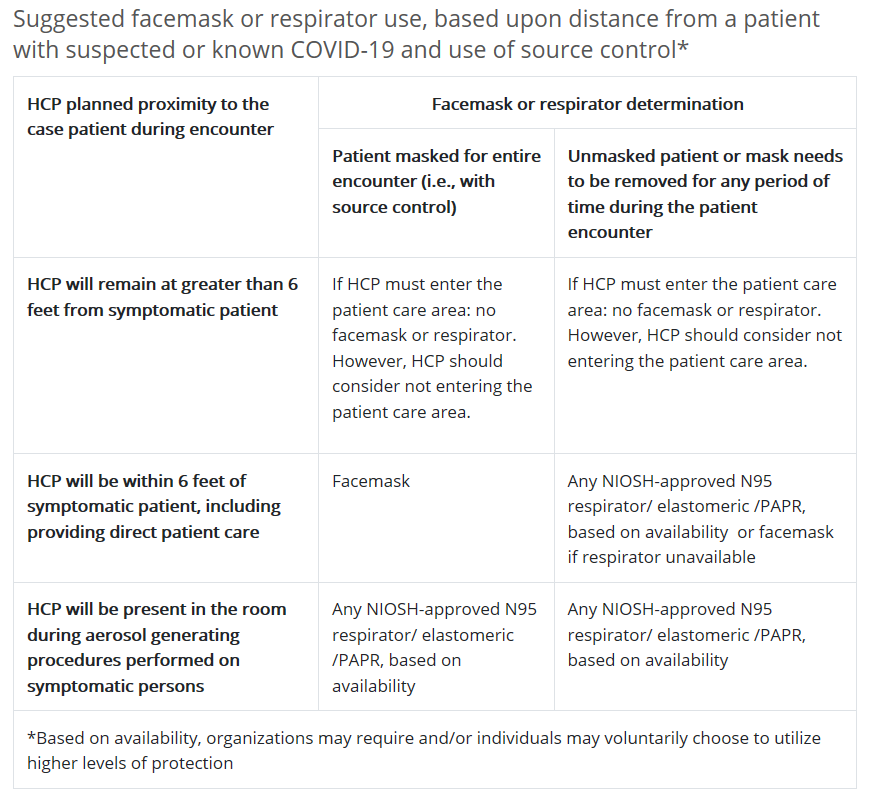 Due to the shortage of N95 masks, the DFD will also start collecting used N95s to prepare for the possible utilization of Battelle's Critical Care Decontamination System process. They've provided the following procedure as an example:
36-N-95-Mask-Collection-Procedure