Virtual Drug Bag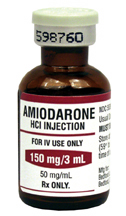 PACKAGED: 150 mg in 3 ml vial, 50 mg/ml (3 in drug bag)
LOCATION: Main Compartment
INDICATIONS:
VFib or Pulseless VTach
Stable Wide Complex VT
ADULT:
VFib or Pulseless VTach: 300 mg IV or IO. May repeat ½ initial dose (150 mg) no faster than 10 min.
Or under VFib or Pulseless VTach, if patient converts with ROSC from a ventricular arrhythmia and no anti-arrhythmic has been given, then administer Amiodarone 150 mg in 250 ml NS, IV over 10 minutes using 60 drop/ml tubing.
Stable Wide Complex Tachycardia: IV Infusion—add 150 mg to 250 ml bag of NS with microdrip tubing run wide open (over 10 min) using an 18 gauge angio.
PEDI:
VFib/Pulseless VTACH: 5 mg/kg IV/IO. Max first dose 300 mg
May repeat 5 mg/kg in 10 min. if VFib persists or reoccurs. Max repeat dose 150 mg
Stable Wide Complex Tachycardia: N/A
THERAPEUTIC ACTION:
Antidysrhythmic agent with multiple mechanisms of action
CONTRAINDICATIONS:
Pulmonary congestion
Cardiogenic shock
Hypotension
Sensitivity to Amiodarone
PRECAUTIONS AND SIDE EFFECTS:
Hypotension, headache, dizziness, bradycardia, AV conduction abnormalities, flushing, abnormal salivation
Continuous EKG monitoring is required.
REQUIRES MCP:
ADULT: No
PEDI: No