Virtual Drug Bag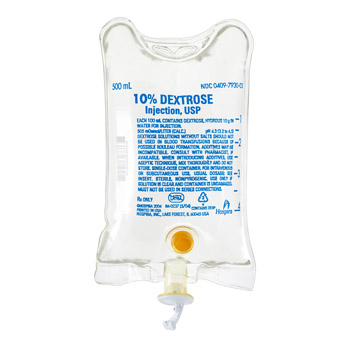 PACKAGED: 500 ml of D10W, contains 50 g Dextrose
LOCATION: Intermediate Pouch
INDICATIONS:
Diabetic with mental status changes
Evidence of hypoglycemia in cardiac arrest
Generalized hypothermia with or without arrest
Altered level of consciousness of unknown cause
Seizures with BS < 60
No blood sugar monitor is available or a strong suspicion of hypoglycemia despite BS readings.
ADULT;
D10 250 ml IV at wide open rate
May repeat in 10 min. if pt. fails to respond or BS remains < 60.
Max dose is 500 ml.
PEDI:
D10, 5ml/kg
Max dose is 250 ml
NEWBORN:
D10 2ml/kg if BS < 40
THERAPEUTIC ACTION:
Principal form of carbohydrate utilized by the body
CONTRAINDICATIONS:
Known or suspected CVA in the absence of hypoglycemia
PRECAUTIONS AND SIDE EFFECTS:
Warmth, pain, burning from medication infusion, hyperglycemia, thrombophlebitis
May precipitate severe neurologic symptoms in thiamine deficient patients
REQUIRES MCP:
ADULT: No
PEDI: No