Virtual Drug Bag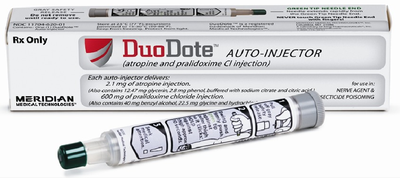 PACKAGED: Autoinjector 2 mg Atropine and 600 mg Pralidoxime Chloride (2-Pam)
LOCATION: Available in CHEMPACK and Drug Cache
INDICATION:
Organophosphate or Nerve Agent poisoning
ADULT:
Single autoinjector containing 2 mg Atropine and 600 mg 2-Pam > 90 pounds
(See individual drug listing for specific information on drugs)
PEDI:
Single autoinjector containing 2 mg Atropine and 600 mg 2-Pam > 90 pounds
THERAPEUTIC ACTION:
Anticholinergic as a result of WMD MCI; also reactivates cholinesterase.
CONTRAINDICATIONS:
PRECAUTIONS AND SIDE EFFECTS:
Tachycardia, paradoxical bradycardia when pushed too slowly or when used at doses less than 0.5 mg, palpitations, dysrhythmias, headache, dizziness, anticholinergic effects (dry mouth, nose, skin, photophobia. blurred vision, urinary retention, constipation), nausea, vomiting, flushed, hot, dry skin, allergic reactions
Atropine causes papillary dilation rendering the pupils nonreactive. Pupil response may not be useful in monitoring CNS status.
Use with caution in myasthenia gravis, renal impairment, pregnancy, lactation or children.
REQUIRES MCP:
ADULT: Yes
PEDI: Yes