Virtual Drug Bag

HYDROXOCOBALAMIN
(Cyanokit)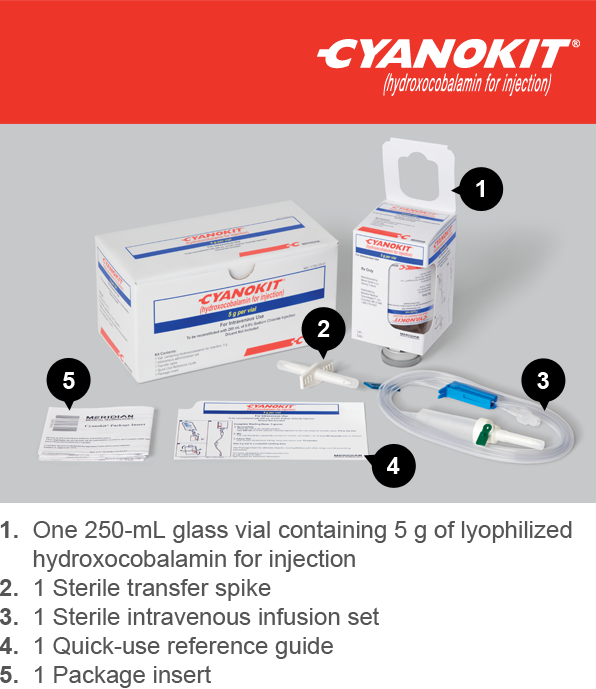 PACKAGED: Kit with specific instructions.
LOCATION: Cyanokits are available in caches located in each county in Homeland Security Region 3.
INDICATION:
Known or strongly suspected cyanide intoxication, or smoke inhalation with suspected cyanide component. For non-arrested patients, cyanide antidotes are indicated if there is a known or strongly suspected cyanide exposure. The patient may have been exposed to smoke from structure fires and presents with altered mental status, seizures, shock, or difficulty breathing.
ADULT:
5 gram vial via slow IV infusion over 15 minutes
Must not be used in conjunction with other Cyanide antidotes
May be repeated 1 time if patient is critical but not in arrest
¨ Follow package directions.

Reconstitute: Place the vial in an upright position.
Add 200 mL of 0.9% Sodium Chloride Injection to the vial using the transfer spike. Fill to the line.
Mix: The vial should be repeatedly inverted or rocked, not shaken, for at least 60 seconds prior to infusion.
Infuse Vial: Use vented intravenous tubing, hang and infuse over 15 minutes.
One 5-g vial is a complete starting dose.
¨ Pediatric dose is 70 mg/kg IV over 15 minutes; max dose of 5000 mg; may repeat a dose of 35 mg/kg; max dose 2500 mg, depending on severity of poisoning and clinical response.
THERAPEUTIC ACTION:
Binds to cyanide molecules and is eliminated as waste
CONTRAINDICATION:
None
PRECAUTIONS AND SIDE EFFECTS:
Do not administer other cyanide antidotes to the same patient.
May cause hypertension
REQUIRES MCP:
ADULT: Yes—must also be authorized by department Medical Director.
PEDI: YES