Virtual Drug Bag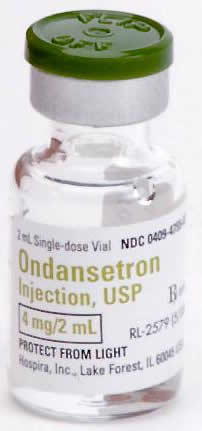 PACKAGED: 4 mg in 2 ml vial, (2 mg/ml) (1 in drug bag)
LOCATION: Main Compartment
INDICATION:
For nausea or active vomiting
ADULT:
Consider Ondansetron 4 mg slow IV, preferred route for active vomiting as pt may need hydration. If no IV, may use 4 mg dissolving tablet or administer the IV form PO.
PEDI:
Ondansetron 0.1 mg/kg IV (max 4 mg).
THERAPEUTIC ACTION:
Stimulation of 5-HT 3 receptors causes transmission of sensory signals to the vomiting center via vagal afferent fibers to induce vomiting. By binding to 5-HT 3 receptors, Ondansetron blocks vomiting mediated by serotonin release.
CONTRAINDICATION:
Known hypersensitivity to Ondansetron
PRECAUTIONS AND SIDE EFFECTS:
Sudden blindness of 2-3 minute duration has occurred. It is suggested that the speed of delivery may contribute to the blindness.
Constipation, diarrhea, fever, headache
REQUIRES MCP:
ADULT: No
PEDI: No