Virtual Drug Bag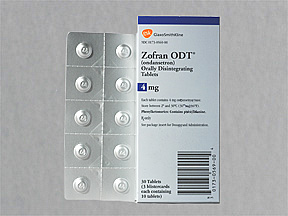 PACKAGED: 4 mg orally disintegrating tablet (ODT)
LOCATION: Intermediate Pouch
INDICATION:
For nausea or active vomiting
ADULT:
4 mg SL
PEDI:
Ondansetron 4 mg PO if pt ≥ 12 y/o and wt is ≥ 40 kg.
Transport time should be considered prior to administration.
THERAPEUTIC ACTION:
Stimulation of 5-HT 3 receptors causes transmission of sensory signals to the vomiting center via vagal afferent fibers to induce vomiting. By binding to 5-HT 3 receptors, Ondansetron blocks vomiting mediated by serotonin release.
CONTRAINDICATION:
Known hypersensitivity to Ondansetron
PRECAUTIONS AND SIDE EFFECTS:
During pregnancy it should only be used where clearly needed.
Sudden blindness of 2-3 minutes duration has occurred. It is suggested that the speed of delivery may contribute to the blindness.
Constipation, diarrhea, fever, headache.
REQUIRES MCP:
ADULT: No
PEDI: No